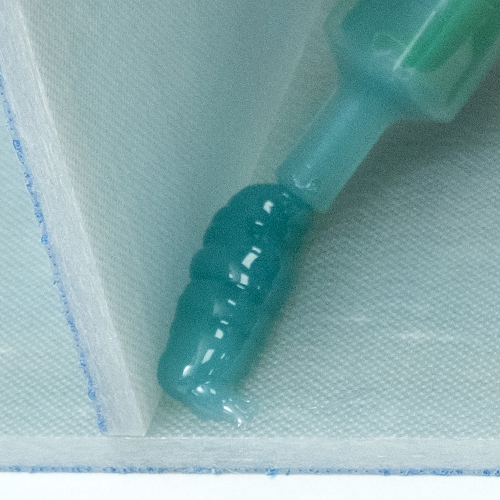 GURIT® Spabond™ 840
DNV-GL Certified, Rapid Curing, Next Generation Epoxy Adhesive for the Wind Energy Industry Featuring LRT as Standard
Spabond™ 840 is a high performance, toughened adhesive designed for bonding large structures such as wind turbine blades.

Spabond 840 allows a significant reduction of Wind Turbine blade production cycle times.
Spabond™ 840 is a cost-effective system with good thermal and mechanical properties with a long working time for adhesive application yet incorporates innovative chemistry to allow a rapid 2 hour cure time at elevated temperature. Key Benefits of Spabond™ 840 include:
DNV-GL certified
Long working time – for manufacture of large components
Rapid cure in 2 hours at 70°C – allows reduced cycle time
Reduced component weights; lower density when compared to glass filled adhesives
High strength and next-generation high toughness & impact strength
Formulated with Gurit LRT (Light Reflective Technology) as standard to allow easy inspection of hard to reach bond lines
Low Toxicity Formulation:

Improved Hazard Labelling
CMR & SVHC* Free

Excellent gap filling properties of up to 30mm
Designed for mixing machine dispense
Range of blend-able hardener speeds coming soon
HEALTH AND SAFETY FOCUS
Spabond™ 840 has been developed using the same approach as for the award winning Ampreg™ 3X Series, prioritising user health and safety through careful selection of base chemicals. The new low toxicity resin matrix is CMR and SVHC* free.
Gurit carefully selects chemicals used in our formulations to ensure the lowest possible risk of future reclassification – securing the safety of our products and health and safety of end users. This approach is part of Gurit's philosophy. As a responsible and sustainable supplier we aim to support, protect and forewarn our customers of potential changes.
* CMR = Substances classified as Carcinogenic, Mutagenic or toxic for Reproduction
SVHC = Substances of Very High Concern

Spabond™ 840 HTA is DNV-GL certified.